On the invitation of the Dutch Deputy Prime Minister cum Minister of Agriculture, Nature and Food Quality of the Netherlands H.E. Mrs. Schouten, Minister of Agriculture and Rural Development of Vietnam H.E. Dr. Nguyen Xuan Cuong will be paid a working visit to the Netherlands from 9 to 11 December 2019.
Viet Nam and the Netherlands have been in cooperation for sustainable agriculture development for years. The two countries have been engaging in a bilateral Strategic Partnership Arrangement (SPA) in sustainable agriculture and food security since 2014.
As part of his program, Minister Nguyen Xuan Cuong also visited Coolport in the Middle of the Dutch harbor. Coolport is a state-of-the-art distribution centre of Europe's number one cooling and freezing warehousing company named Kloosterboer. This 60,000 pallet place large facility is used by companies to import, store their fresh produce, and load on trucks or trains for distribution worldwide.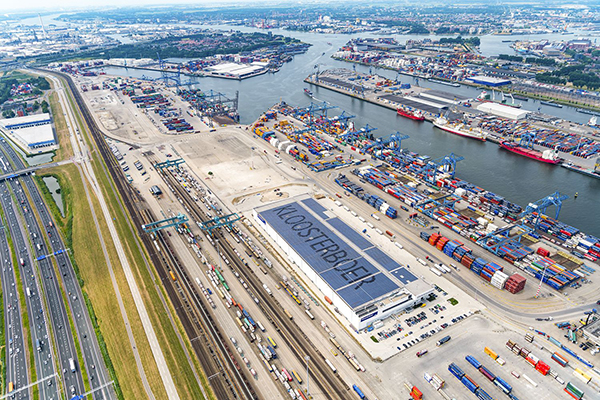 Coolport in the Rotterdam harbour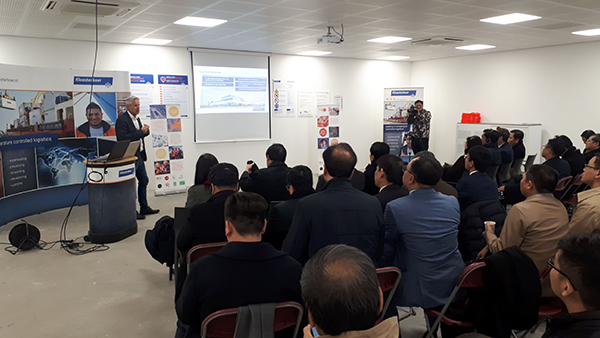 Mr Jack Kloosterboer presenting Coolport to Minister Cuong
The minister and his delegation of 50 people were given a presentation by Mr. Jack Kloosterboer, one of the four brothers who own the company, about the importance of smart and efficient logistics for food (frozen and fresh). Hereafter, the owner and managing director of The Fruit Republic, Mr. Siebe van Wijk, gave a presentation about how the Vietnamese fresh produce sector can be professionalized and what important role the Ministry of Agriculture and Rural Development can play in this process. Very concrete measures can have a huge positive impact. Examples are:
- Arrange phytosanitary market access for Vietnamese produce to neighboring countries. Like for example, Thailand. Now only Vietnamese sweet potato, longan, and dragon fruit have market access to Thailand, while over 20 different kinds of Thai fruit, can enter Vietnam. As a result of which Vietnam has a whopping US$ 800 mln negative trade balance in fruits with Thailand.
- Ensure those pesticide companies in Vietnam officially register their products for the use of specific fruits and vegetables
- Stimulate the development of a professional fruit nursery sector, which is now nonexistent
- Invest in applied R&D and extension for fruits, preferably in close cooperation with the private sector
Mr. Kloosterboer and Mr van Wijk gave Minister Cuong a tour of the Coolport facility, where he good see containers of pomelo from The Fruit Republic arrive freshly from Vietnam. Minister Cuong was very proud to see the Nam Roi pomelo successfully conquer the European market. He interviewed the national Vietnamese television station VTV, with a box of pomelo in his hand. He explained how Vietnam and The Netherlands are cooperating to develop a more sustainable and more profitable agriculture sector in the Mekong Delta. Developing fruit value chains is one of the objectives, and the Minister was very happy to see the example of The Fruit Republic.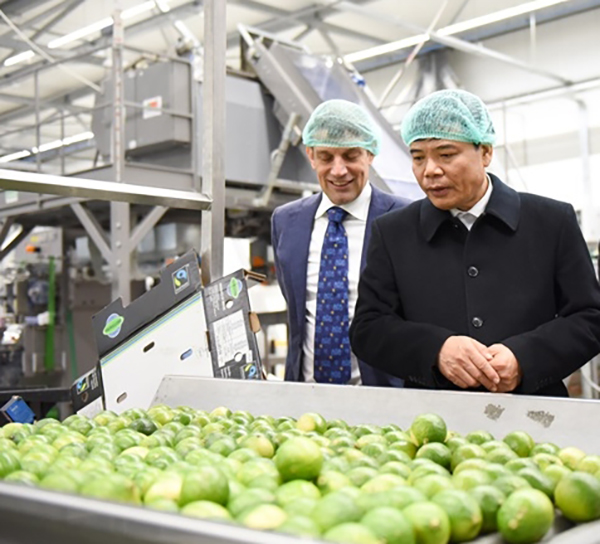 Minister Cuong and Mr. Siebe looking at the lime netting machine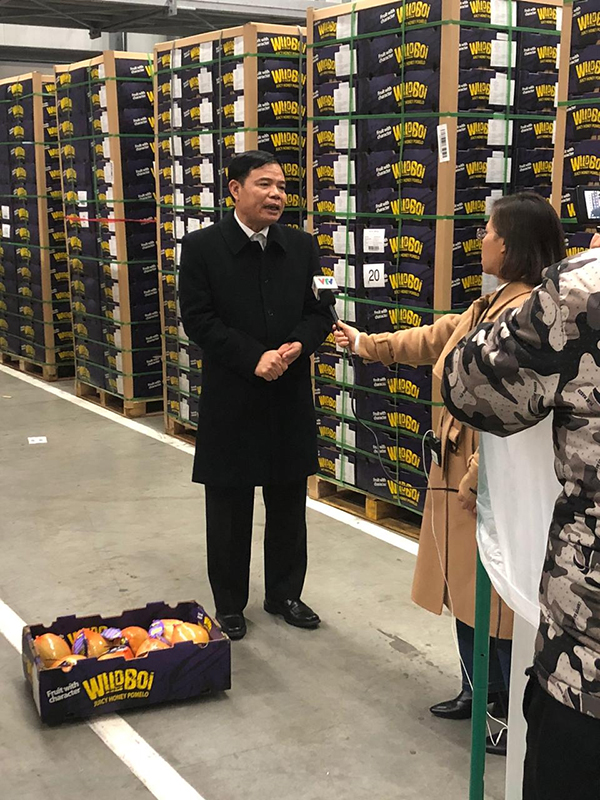 Minister Cuong interviewed by VTV about the Vietnamese pomelo standing in front of the Wildboi pomelo brand of TFR